Yesterday I shared the daily, weekly and monthly sales activities that agency owners should implement in their business.
And this is what it the Daily Sales Activities look like in practice.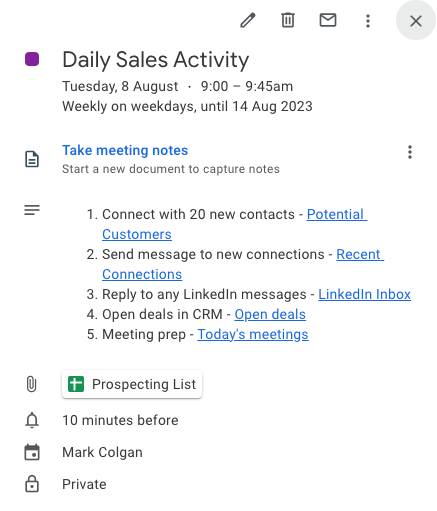 I have set up a recurring calendar appointment in the morning each work day.
Activity breakdown
Each of the links opens the exact list or section in a document that I need to get to:
Connect with 20 new contacts – Potential Customers – a list of leads that I've built previously colour coded to know where to start from
Send message to new connections – Recent Connections – with the message options ready to copy, paste, edit and send.
Reply to any LinkedIn messages – LinkedIn Inbox – I really don't like the UI of the inbox, but this link loads all unread messages which makes it easier for me to manage.
Open deals in CRM – Open deals – opens my Hubspot CRM and I work from closest to revenue
Meeting prep – Today's meetings – links to a document where I automatically create meeting agendas for my calls. I'll spend a bit of time researching the company and individual ahead of the call
Those that know me well, know I'm all about efficiency.
Adding the links to the various documents, lists and tools in your calendar invite, isn't necessarily about saving time.
For me it removes the frustration of searching and not finding what I'm looking for.
It took me about 10 mins to set up all the documents and links in the calendar.
But now, every morning, I know what I need to work on before getting distracted with other tasks and responding to emails/messages.
If you're an agency owner who's solely responsible for sales, but can only commit 20% of your time to sales – this habit will allow you to stay on top of all open deals whilst also generating pipeline.