Access The B2B Sales Trigger Matrix
Stop settling for 1% reply rates and use these trigger events to consistently achieve 15% reply rates with your cold emails.
Cold email still works!
But many salespeople still take the spray and pray approach to sending cold emails.
For the last several years I've used these B2B Sales Triggers to increase the relevancy of my message, which allows me to consistently achieve 15% reply rates and in turn, has generate millions in revenue for my businesses and my customers.
The reality is that 97% of prospects aren't actively looking to purchase a new solution…so building lists based on job titles or personas is pointless.
Just because they match your buyer persona, it doesn't mean they are interested in hearing from you right now.
Instead, you need to focus on sales triggers (also known as buyer signals), for the following two reasons:
Right message, right time – a sales trigger can help you take action as soon as the ideal conditions for buying and selling between you and your prospects happen.
Scalable personalization – as long as your message is relevant to the sales trigger, you can send the same message to multiple prospects. No need for those cheesy AI generated intro lines that don't work.
So, if you're feeling frustrated with your cold email results or have tried in the past and got the feeling it didn't work, then try these 30+ Sales Triggers.
Once you start using them, you'll realise that cold emailing isn't about volume. It's about working smarter, not harder.
It's really about matching the right trigger with the right message.
What's included?
30 B2B Sales Triggers for increasing relevancy in your cold email outreach.

A description of each trigger and how it can be used.
A relevance factor – describing how relevant the trigger could be.
A time/difficulty rating – representing how difficult the data is to locate or how time consuming it is to do so.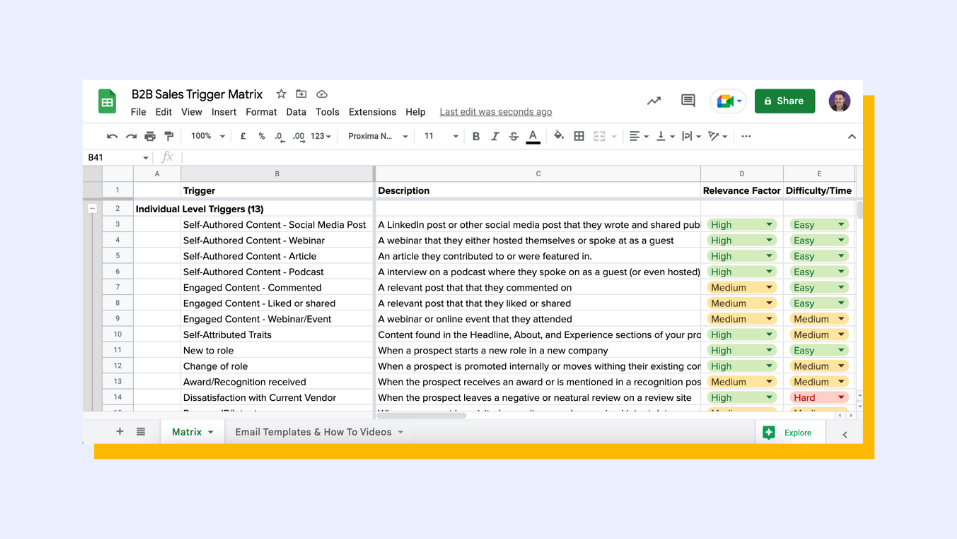 Click Below To Get The B2B Sales Trigger Matrix Today
No email required, but if you want to find out how I can help generate pipeline at your agency, please book a call here.